Friday, June 1, 2012
I made a solid effort to sneak in persuasive writing before the year ended. My kids LOVED it!! I gathered some awesome picture books to show author examples, modeled, and whipped up some snazzy charts. I think that next year I will review letter writing and then jump right into persuasive writing. They just go together so well. I'll have to say that the Common Core looks highly on persuasive writing so I want to do it up right! :)
Here were a few of my favorite books. They were great! Super funny, with beautiful illustrations, they would make wonderful additions to any classroom library. My kids were

CRAZY

for the I Wanna books! I think I'll put a twist on my LaRue books next year to mesh with elections. Never too soon to plan ahead!! :) Now, I just have to not forget. hehe! I have to say I get so many wonderful ideas from all the wonderful blogs and the awesome Pinteresters that I need to get better at writing all the awesome ideas down on some kind of organized map. Imagine that!! :)
I swear I'm not one big sales pitch but I purchased this Persuasive Writing unit on Teacher's Pay Teachers. It has come in super handy! If you know Jen from Runde's Room than you know she has been blogging a long while. She has some super cool stuff in her store and I can vouch that the Persuasuve Writing unit is wonderful.
If you want to jump over and check out Runde's Room she just recently posted about a Daily 5 book study.
You know how I LOVE Daily 5!!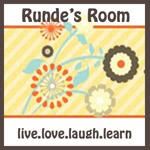 Now for the charts I whipped together! I took information from the writing unit, threw in picture book examples, snazzed it all up with my sassy sharpies and......POOF!!
My kids focused on writing letters to people trying to "persuade" them to do, think, buy, etc. Most of them wrote letters to parents that were very similar to the ones in the picture books I read. I see taking things a step further next year when I loop to fourth. I want to see them choosing candidates or issues, then writing to persuade. How cool would that be!?!
I did have a few who wrote a few sentences and would run up to me saying they were done. Go figure!! :) We work on writing during Daily 5 time and I couldn't have my conferences/guided reading interrupted so I broke things down for them.
All in all things went well! I had two girls tag team a letter to convince me to allow them to bring in their cat. I read the letter and planned to respond but they took my not saying no, as a yes. The next day in walks a grandma with a cat. I guess we need to talk a bit more about persuasion and permission! Ha! It was a very nice cat. :)
Please feel free to comment with other materials, books, and/or tools you use for persuasive writing. I would love to hear from you!