Monday, March 19, 2012
Live 2 Learn is new on the block and having a giveaway!! If you have a minute run over and join in! She only has 4 entries so far and she needs her fellow bloggers to show some LOVE!! :) Besides that makes your odds of winning pretty darn good! :) Click on the button below to go over and win something cool!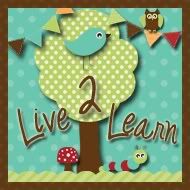 I hope Monday treated all of you a okay! I know this warm weather is giving me and mine some serious spring fever! I have 9 days until spring break and I'm super excited/nervous. We are moving, and wow, it is gonna be CRAZY!!