Wednesday, August 17, 2011
Kristen, AKA Ladybug has gone on vacation!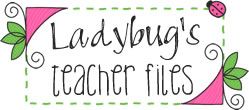 While she is away she has arranged for 7 guest bloggers to bring you fun printables that they use in their classrooms!
I am honored to be her Wednesday freebie girl!
Hop on over and check out the freebies that have been posted since Sunday!!
Stay tuned for the next 3 days for even more! She really does have awesome bloggers lined up!! Leave it to Ladybug!!