Tuesday, April 12, 2011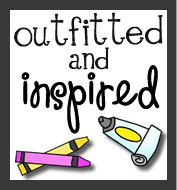 is having a little Dollar Tree Tuesday link up party!!
Head over and see all the cool finds from Dollar Tree and the ways they can be used in the classroom!
I was just recently at the Dollar Tree to pick up favors for my 4year old's birthday party. Fifteen kids later I needed to pinch some pennies! I ended up buying these cute little sand pails which I filled up with chalk, bubbles, a shovel, and treats! This is a picture to give you the gist. I had to run down to the sand box and wash this off because the party was last week and my kids had already put the toys to very good use. The chalk was in a cute package but that wrapping is long gone!! You get the idea from the pic though. I ended up buying all my stuff for 15 kids and I spent under 30 bucks. You could easily get a set for the kids in your room just in time for Easter.
I also saw some very sassy storage baskets!! I already have several of these in black that I use to organize books in my library. I plan to build a math library this summer so I've been on the lookout for baskets to color coordinate for my math library. I think I found them!! I hope they look good in my new room! :)
Make sure you head over and link up!! I want to see all your awesome finds!!