Tuesday, April 5, 2011
Click on over and check out 1st Grade with Miss Snowden!! She is having a link party on technology. I'm sure you will want to grab up all the super cool ideas people will be posting about!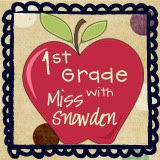 I wanted to join this linky party but felt a little technology challenged. Compared to the rest of you I don't really have a lot of techy experience under my belt. I guess you could say I'm just getting started! :) I have a document camera on the way but my classroom computer has been all I really have and it runs like a dinosaur. (A really slow dinosaur) I do have a pretty cool projector.
One of my co-workers introduced me to
Schoology
it's a social networking site similar to Facebook but it is overseen by an adult. It has the look and functions of Facebook but it is set up and controlled by the classroom teacher. This is probably a site to be used with older students around 4th/5th grade and up.
You might be interested in checking out
Free Technology For Teachers
this is a teacher Richard Byrne who specializes in free technology tips and lessons for teachers. There is a lot over there to see and learn.
Thanks for the cool linky party Miss Snowden!!